This is my other Card Candy Swap entry. I used Stampin Up's Little Friends set. This card candy will make 3 cards. I used the Label Framelits for one design, the Big Shot Scallop Square for another and finally the Big Shot Scallop Envelope for the final design.
I love this sweet little set. I used markers to color in the designs. It is more vibrant in real life. Sorry my scanner does not pick that up. Note the little brads on the wheels of the boy's wagon too. How easy would it be to grab a card base and make a card with any of these prestamped/colored/and matted designs. You could do a very simple card by only adding the card candy. You could step it up a level by adding a textured embossing folder background. You could add ribbons and patterned paper. The point is you can easily go from simple to more elaborate with the artwork provided.
I like this swap so much, I made an application at our scrapbooking/cardmaking group on Ning.com (The Crop Room) to host a both a CARD CANDY and a SCRAPBOOKING CANDY swap in mid July. I got the email it was approved! YEAH!!!! I will post it after I return from Convention.
The only difference in the 2 types of swaps - Card Candy and Scrapbook Candy is the focus. In Card Candy you are making your "homemade" jolee's to work on the front of a several cards. In Scrapbook Candy you are making your "homemade" jolee's to work on a single 12 x 12 double page scrapbook layout. I think this will be a neat way to showcase our work and allow my mind to expand in some new directions ! I know (by request of Lois) that one of my scrapbook candy pages will be a "Western Theme". She saw a scrapbook layout I did at Christmas in a western theme and loved it.
On the health front, this is morning 1 after chemo. Things seem to be going smoothly. Woke at 5:30 and laid in bed til 6:15 just watching some TV. Then fed the furrballs and took a nausea pill. Best to keep that at bay you know. I try to stay ahead of it. Had a banana and a bottle of water and need to go take an insulin shot next.
Tanya is coming at 8 to help me rearrange one one in my therapy room. I bought 5 more white cubes at Michael's yesterday. Assembled them all last night. Whew that was work! Kept dropping those little screws -- chemo messes my fine motor skills up alot. Then I put together the new living room lamp. Bought me a swinging arm lamp with a 3 way bulb for my recliner area a couple of weeks ago. Then yesterday, the end table I had been eyeing at Hobby Lobby finally went down to $89. It has been slowly creeping down from $150, which I deemed tooo much money. After all that could be an SU order and a girl has her priorities --- lol. Only another demo would understand and love that sidenote. LOL Anyway that table is in my car to be brought in. It is moon shaped. I mean the back is straight and flat and will lay against the wall - no more things falling off like the current table. The front is half circle or moon shape as I call it. It has a single drawer to it. Wish it had a shelf but could not find one that did. It is a very dark brown but has distressed marks on it that I could live without. It will be next to a cream colored recliner. My other chairs/ottomans (I have 2 of them each) are a deep brown. The new laminate floor in the living room, goes in on Friday. They are a two tone laminate moving from a medium light wood grain to a medium dark wood grain. Got to run to Lowe's today and grab some pads for the bottom of the furniture to make it easier to move it and then also to avoid marring the floor. So excited to have this new flooring in place of that nasty shag carpet that was here when I moved in! Should of done this at the beginning but oh well.... it is done (or should I say) PAID for now.
Next week I have to go to Sam's and get my moving/rolling steel shelves for my garage. That is the next task to accomplish this summer. I want my 2 car garage organized and the boxes all finally unpacked. I moved into this house 2 years ago and that task is not done. There were reasons too.... moved in July. Sis got ill near the end of July and I went on child duty with Austin. Then I scheduled it for the following summer of 2011. Heck I went out of remission in January and last summer I was on weekly chemo - so that was out. I have to get this done this summer! There is only room for my car in that garage and finding stuff is a pain!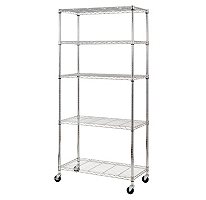 This is the shelving I am probably going to purchase for my garage. At least this way, I can roll the shelves away from the walls to occasionally sweep out the garage. That and I can move the car out and Tanya and I can load directly to the shelves from the boxes. Hate to have to pull out 3 rows deep of boxes to put standard shelves in and then have to unload those same boxes. This way we unpack as we go. Afterwards we simply roll our shelves against the wall (and I get a chance to clean the floor too!). I know I need one shelving unit just for my Christmas tubs. And remember I have alot of my mom's stuff still in boxes. Want to find it all and sort it so the family can go thru once more. There are 3 boxes that belong to sis that mom had packed for her sitting in the garage too. I think I am going to get 4 of these for now. Later I might go and get another couple for the other side of the room. But I have a large cabinet Bruno (my brother) built for Mom's alterations business, and an old metal china cabinet and an old metal desk of Mom's in the garage, plus a file cabinet of mine. I just want it neat and clean in there. Shelves along each side and the items organized. I am sort of anal about that and the garage drives me nuts. Hate to say I even have a guest room closet still filled with boxes. I just want my house decluttered!
Okay steriods at work. Can't you see how much I chatter on these things! Geesh.... glad they will be wearing off by tomorrow.
Have a great day! I am off to the therapy room to start moving things so we can set these white cubbies in the room! Might even take photos for you!
Arlene